Dad,
I Remember all the Valentine's Day's that You Never Forgot. You always made Kathleen and I feel so special. We would wait till you arrived home from work, and You would give us each a Heart Shaped Box of Chocolates, and a few Bags of Candy Hearts. Of Course You Never Forgot Mom, She got the Biggest Heart Shaped Box and the Biggest of Cards. I Miss Those Days, but I Will Always Have Those Special Memories. Where Did All Those Wonderful Years Go???? You Will Always Be a One of a Kind Dad, Always Missed, But Never, Ever Forgotten.
I am Still Missing You Everyday, Someday's More Than Others.
Why Didn't I
To sit with my Dad once again
Would be a dream come true
I would say the things I should have said
Like how much "I Love You!"

So many words were left unspoken
So many words were left unsaid
Why didn't I tell him how I felt?
But I kept my mouth shut instead.

For fear of embarrassment and awkwardness
I kept the words tucked in my heart
Then the Lord took you home one day
Now my words I can't impart.

I'm so sorry I never told you
Just how much I did love you
Something inside of me said 'there's no need'
I took it for granted that you knew.

So Dad, I want you now to know
Even though you're on the other side
Just how much I love and Miss you
and That's why I continue to cry.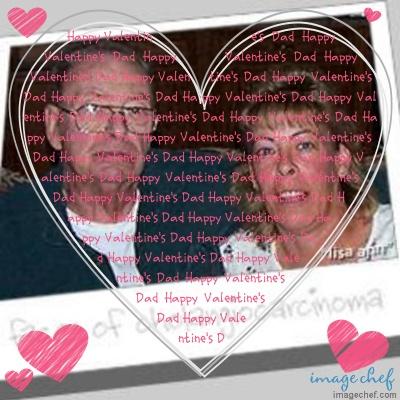 Dad and Lisa
Jimmy, Kevin, Lisa and Brian
Jimmy, Kevin, Lisa, Brian and Tommy