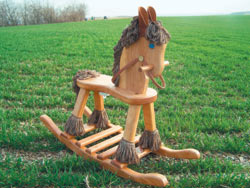 Rocking to the Oldies
You can't help but smile at this master carpenter's heirloom rocking horses and remember happy times.
By Ken Wysocky, Whitefish Bay, Wisconsin
A n ordinary rocking horse is child's play compared to the ones Ed
Kane creates in his workshop in Bent Mountain, Virginia. With their curly manes, fluffy tails, fetlock hair, solid glass eyes and leather ears and reins, Ed's rocking horses look so real you almost expect them to whinny or shake their manes.
"I wish I would've had one of these when I was a kid," says the 54-year-old master carpenter, cabinetmaker and owner of Back Creek Rocking Horse Co.
Santa's helper. From Labor Day through Christmas, master carpenter Ed Kane makes rocking horses in his workshop.

Ed's horses remind people of a simpler time when toys were treasured, not disposable.
"I had a woman call me last night who was so thrilled with the horse she gave her grandson for his birthday," Ed says. "She said everyone at the party went wild, and the child's eyes just lit up.
"In fact, his mother bought him a rocking horse, too. But when she saw mine, she decided to not let her son open hers and took it back to the store."
Ed says that's a common reaction when children and adults first lay eyes on his creations.
"A lot of people tell me they're overcome with emotion when they see the horses," he observes. "They realize that this is an heirloom that will be handed down for generations to come. It's very rewarding for a craftsman like me."
Now, Ed's horses are sought after as gifts for young children or uplifting tokens of friendship and charity.
Easy to Assemble
Model beauty. The ponies of Assateague Island and Corolla Light inspired the design for Ed Kane's rocking horses.

Ed began making rocking horses in 1988 after the birth of his only daughter.
"My sister gave her a rocking horse from a real expensive department store, and it was just junk," he recalls.
"So I went out and came up with my own design that was not only prettier, but safer, too. My rockers are 36 inches long, so they can't tip over."
Each horse is 12 to 14 inches tall at the seat and 29 inches to the top of the head. To keep shipping charges down, some assembly is required. But never fear: All you have to do is attach the head to the body with two nuts and bolts.
"A lot of horses you buy on-line need a lot of assembly," Ed says. "I keep mine simple. I kept in mind parents on Christmas Eve."
Each horse also comes with a music box mounted under the seat to give tots the ultimate in-the-saddle experience.
Ed says the famed Chincoteague ponies of Assateague Island, which lies off the coast of Maryland and Virginia, and the ponies of Corolla Light, North Carolina inspired the design for his rocking horses.
He still recalls the day in 1988 when he found his pickup truck surrounded by about a dozen ponies in Corolla Light.
"While working as a contractor, I parked my truck in a parking lot at 5 a.m. to wait for a grocery store to open," Ed recalls. "Next thing I knew, my truck was completely surrounded by ponies. I couldn't move. I had a good hour to observe them."
Horses for Heroes
Ed makes about 250 rocking horses a year. It takes him about 3 hours to make each one.
"But I cut the pieces for 12 horses at a time," he explains. "If I cut only one at a time, it would take a lot longer—at least 6 hours for each horse."
From Labor Day to Christmas, Ed is working at a furious pace in his 1,400-square-foot workshop.
While he's extremely proud of making his heirloom horses, Ed takes even greater pleasure in his Horses for Fallen Heroes program, in which he donates rocking horses to children of soldiers who died in Iraq.
He has also donated horses to fund-raisers for the American Cancer Society, the Today Show annual toy drive, children whose parents died in the World Trade Center attacks, and other charitable causes.
"It's not much, but it's something," Ed says. "It makes me feel real good. Any time you can put a smile on a child's face, you've really done something."

Ed Kane passed away on November 19th, 2009. He will be Missed by Many, as he did put a Smile on many Faces. Love You My Friend, Always in My Heart and Memories !!!